Welcome to the online version of the MOA Membership Directory.  It is only available to MOA members (the public cannot view this information). To update your information or update your member profile, send an email to membership@mseyes.com.
243 optometrists found

| Last Name | First Name | Practice | City |
| --- | --- | --- | --- |
| Aldinger | Sean | Olive Branch Eyecare | Olive Branch |
| Allen | Mark | The Optical Shoppe | Flowood |
| Ambrosino | Kimberly | Madison Vision Center | Southaven |
| Armstrong | Anna Katherine | Hattiesburg Eye Clinic | Hattiesburg |
| Arnold | W. Les | Northeast Eye Care | Madison |
| Ashley | Miles | The Vision Clinic of Vicksburg | Vicksburg |
| Ashley | W. Samuel | The Vision Clinic of Vicksburg | Vicksburg |
| Attar | Roya | University of Mississippi Medical Center | Jackson |
| Bearden | James | Professional Eyecare Associates | Canton |
| Beatty | David | Taylor Eyecare | Brandon |
| Beddingfield | Jason | Laurel Eye Clinic, PC | Laurel |
| Belk | Craig | Belk Eye Clinic | Gulfport |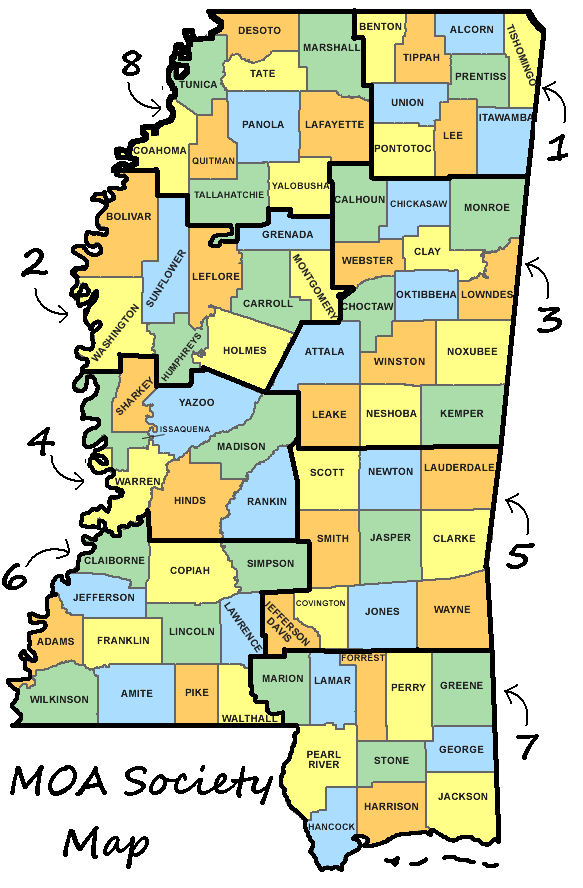 SOCIETY 1 | Northern
Mike Weeden, O.D. of Corinth
Corinth Eye Clinic
3201 Gaines Road
Corinth, MS 38834
662-286-8860
SOCIETY 2 | Northwest Central
Chris Walls, O.D. of Grenada
20/20 Eyecare of Grenada
600 Old Hickory Road
Grenada, MS 38901
662-226-7010
SOCIETY 3 | Northeast Central
James Brooks, O.D. of Columbus
Brooks Eye Center
3545 Bluecutt Rd.
Columbus, MS 39705
662-327-2020
SOCIETY 4 | Southwest Central
Walter Pang, O.D. of Clinton
Optical 2000
115 Cynthia St.
Clinton, MS 39056
601-924-4444
SOCIETY 5 | Southeast Central
Minh Duong, O.D. of Meridian
Primary Eyecare & Optical of Meridian
4721 26th Avenue
Meridian, MS 39305
601-485-2020
SOCIETY 6 | Southwest
Chad Smith, O.D. of Brookhaven
Hazlehurst Eye Clinic
118 North Caldwell Dr.
Hazlehurst, MS 39083
601-833-4431
SOCIETY 7 | Southern
Jay Fuller, O.D. of Biloxi
Tri County Eye Clinic
431 Bertucci Blvd.
Biloxi, MS 39531
228-385-2020
SOCIETY 8 | Northwest
Michael O'Brien, O.D. of Southaven
O'Brien Vision Center
1890 Goodman Rd. E, Ste 100
Southaven, MS 38671
662-772-5882
We remember and honor the history and legacy of the Mississippi Optometric Association and its members. 
James Everett Wright, Jr., O.D. (d. 09.26.2018) of Forest, MS.
James Everett Wright Jr., 91, passed away Wed. Sept. 26, 2018 at the Bee Hive Assisted Living Center in Forest, MS. Visitation will be held on Thurs. Sept. 27, 2018 from 5pm- 7pm and on Fri. Sept. 28, 2018 from 9:30am-10:45am at Ott & Lee Funeral Home in Forest, MS. Funeral Services are 11am on Fri. Sept. 28, 2018 at the Ott & Lee Funeral Home Chapel in Forest, MS with burial to follow in the Eastern Cemetery.
Rayford Norman Edgar, O.D. (b. 09.15.1925 d. 08.08.2017) of Water Valley, MS.
Dr. Rayford Norman Edgar, 91, died Tuesday, August 8, 2017, at Baptist Memorial Hospital- North Mississippi in Oxford. Funeral services will be held on Friday, August 11, 2017 at 11 a.m. at First Baptist Church in Water Valley, with burial to follow at Oak Hill Cemetery. Visitation will be held on Thursday, August 10, 2017, from 5:00 p.m. until 7:00 p.m. at Seven Oaks Funeral Home, which is in charge of arrangements.  He is survived by his wife, Teresia Bagguley Edgar of Water Valley; one daughter, Jayne Edgar River (Keith) of Water Valley; two granddaughters, Heather River McLellan and Steffi River Larson, and three great grandchildren. A lifelong resident of Water Valley, he was born September 15, 1925 to the late William Bryant Edgar and Lucy Belle Ware. He graduated from Water Valley High School, attended theUniversity of Mississippi and graduated from the Southern College of Optometry in Memphis, Tennessee. He served in the United States Navy in World War II aboard the USS Ainsworth in the South Pacific theater and achieved the rank of Petty Officer First Class. Dr. Edgar began his practice in Water Valley in 1950. From then until his retirement in 1995, he helped thousands of people with their vision. He performed far more than eye examinations and writing prescriptions, always taking time to get to know each and every patient. He was a member of the State Board of Optometry, and served on the National Board of Examiners. He joined the Lions Club in 1950 and helped them fulfill their mission of sight conservation. He received the Melvin Jones Fellow Award, the highest honor bestowed by the Lions Club International. He also received the State Department of Optometry Lifetime Member award in 2013. He was a member and Director of the VFW and American Legion, served on the Board of the Mississippi State Department of Health, Water Valley Housing Authority Board, Yalobusha County School Board, a charter member of the Water Valley Chamber of Commerce, Casey Jones Museum committee and Board member, and a Mississippi Veterans Affairs Board member. Dr. Edgar was an accomplished percussionist, having played the drums in many bands and combos. He loved music, especially Big Band and Gospel, and enjoyed the friendship and camaraderie of his fellow musicians. He was an outdoorsman, enjoying fishing and especially bird hunting, along with his love of sports. He was an accomplished athlete, and played football, tennis, golf, and baseball. He was a member of First Baptist Church in Water Valley, where he served as a deacon, Sunday School teacher, Adult Choir member, and served on the Youth and Finance committees. He loved his Church and her people, where he gave of his time and talents unselfishly. He loved his community and Water Valley, where he spent his whole life making it a better place to live and grow up. He loved his family, and gave his all to be the best husband, father, grandfather and great grandfather.
William Allen Williamson, O.D. (b. 07.29.1933 d. 11.27.2016) of Greenville, MS.
William Allen Williamson, O.D. passed away November 27, 2016, at St. Dominic Hospital in Jackson. Dr. Williamson had practiced optometry in Greenville, Mississippi from 1960 to 1998. The family will receive friends at the County Line Baptist Church, his childhood church, at Dossville, Mississippi, on Saturday, December 3rd from 10:30 to 11:30 am with graveside services to follow in the church cemetery. He will be buried beside his children, Donna Taylor and William Allen, II.  He was predeceased by his parents; daughter, Donna Taylor; son, William Allen, II; brother, Donald W. Williamson, II; sister, Merridithe Welch. Surviving him is his wife of 57 years, Martha Taylor Williamson of Greenville; son, Lamar Williamson and his fiancé Amanda Bennett of New Orleans; brother, George (Roxanne) Williamson of Fairhope, Alabama; numerous nieces and nephews. Culpepper Funeral Home of Kosciusko is in charge of arrangements. Dr. Williamson was born July 29, 1933, to the Honorable Donald and Beatrice Doss Williamson. He was delivered by his grandfather, Dr. Will Williamson, in the family home in Dossville, and was a descendant of the pioneer Doss family of Leake County. In this community, he met and married his childhood sweetheart, Martha Pearl Taylor. He was a member of Christ Wesleyan Methodist Church before dissolving.  Dr.  Williamson received his Doctor of Optometry degree from Southern College of Optometry, Memphis, Tennessee in 1956 and completed post graduate studies at the University of Penn. He was a 1st LT in the Medical Service Corp, being stationed at 11th Evac Hospital, 121st Evac Hospital and 8th Army Headquarters in Japan and Korea 1956-1958 and Fort Rucker Army Hospital in Alabama. Dr. Williamson was Optometric State Legislative Keyman 1971 – 1972 and Optometric Legislative Chairman 1973 – 1974. He was Chairman of the Optometric Advisory Board to MS. Medicaid Commission 1972 – 1975 and a member of the MS. Blind and Deaf School Board of Trustees 1973-1975. He was president of the Washington County Association of Disabled Citizens from 1985 – 1987. Dr. Williamson was president of S.O.S. Disabled Workshop, Inc. 1985 – 1987 and president of the Advisory Board to Christian Missions Concern of MS. Inc. from 1987 – 1989. He was a charter member of Greenville Optimist club and selected to Who's Who of the South and America. He was a 32nd degree Mason and Shriner.
John Terry Jones, O.D. (d. 1.2.2016) of Holly Springs, MS
Dr. John Terry Jones, 76, died Jan. 2, 2016, at Baptist Memphis Hospital in Memphis.
Services will be Friday, Jan. 8, 2016, at 3 p.m. at Holly Springs Funeral Home. Holly Springs Funeral Home
is in charge of arrangements. Visitation will be Friday, Jan. 8, 2016, 2 p.m. until service time at the
funeral home.
R.H. Bostwick, O.D. (b. 03.20.1946 d. 11.19.2015) of New Albany, MS.
Dr. Robert Henry "Robin" Bostwick, III, 69, passed away on Thursday, November 19, 2015 at his home. Born on March 20, 1946 in New Albany, he was the son of Dr. R.H. Bostwick, Jr. and Mary Parker Bostwick. Dr. Bostwick graduated from W.P Daniel High School, class of 1964, and was a member of the 1963 "Little Ten" league championship football team. He was a member of the Sigma Chi fraternity at the University of Mississippi and graduated in 1969. After graduating from Ole Miss he received his doctorate of optometry practice for over 42 years. He was a lifelong member of the First United Methodist Church. Dr. Bostwick was a loving husband, father, and grandfather and was devoted to his family. He enjoyed grilling and being outdoors. He spent the majority of his free time at Midway Hunting Camp and Darden Lake with his friends and family. A celebration of life will be held on Sunday, November 22,2015 at 2 p.m., First United Methodist Church, New Albany, MS. He is survived by his wife of 42 years, Laura Turner Bostwick; daughter, Claire Bostwick Harris (Cheyne Harris), Memphis, TN; grandson Charles Bostwick Harris; sisters Mary Ann Herrington, New Albany, MS and Margaret Stack, Nashville,TN. The family asks that all memorials be sent to the FUMC building fund.
Gene Felder, O.D. (b. 10.30.1928 d. 04.24.2015) of Hattiesburg, MS.
Dr. Felder practiced optometry until he retired at age 75. He was a deacon and longtime member of Main Street Baptist Church. A survivor of childhood polio, he will be greatly missed by his family and friends who will never forget his loving spirit and genuine heart. In heaven, he joins his children, Gene Michael Felder and Kathy Felder Powell. He is survived by his lovely bride of 64 years Maxine Felder; his son Paul Felder and wife Beth; his grandchildren Claire and Dana Felder, Josh Felder and wife Amanda, Katie Powell Gustafson and her husband Dane, and Bob and Jack Tibbs. He is also survived by his brother Carl Felder and wife Peggy, and great grandchildren Mia and Max Felder.
Billy Lightsey, O.D. (b. 09.16.1927 d. 04.07.2015) of Laurel, MS. Dr. Lightsey was a resident of Laurel, Mississippi at the time of his passing. Dr. Lightsey was a Past President of the MOA Board of Directors (1968 – 1969). He is survived by his wife Anna. Visitation will be held at 1 p.m. Saturday, April 11, 2015, at Memory Chapel with the memorial service to follow at 2 p.m. Dr. Mark Anderson will officiate. In lieu of flowers, the family requests that memorials be made to the First United Methodist Church of Laurel. 
Sylvester William "Bill" Hora, O.D. (b. 10.12.1923 d. 01.03.2015) of Corinth, MS. Licensed in MS in 1955. Dr. Hora was a Life member of the MOA. He was born in St. Louis, MO to the late S.W. Hora Sr. and Margaret Nile McMullen Hora. He graduated from Christian Brothers High School and attended Christian Brothers College. He began attending SCO and enlisted in USAAC for the duration of World War II. He then returned home and reentered SCO and received his Doctor of Optometry in 1948. He remained on the clinic staff until he moved to Corinth to join his brother Dr. Jack Hora in his practice in 1955. While serving in WW II, he was part of the air-offensive in Japan and the Eastern Mandates. Dr. Hora was a member of the 40th Squadron, 6th Bomber Group, 313th Wing and the 20th Air Force. His honors include; American Theater Campaign Medal, Asiatic Pacific Campaign Medal with 3 Bronze Stars, WWII Victory Medal, Sharpshooter Carbine Medal, and Good Conduct Medal with recommended increase in rank to Staff Sargent. Dr. Hora was selected for membership to the International Society of Contact Lens Specialists, which is limited to 60 members worldwide. He was a member of the British Optometric Assn., charter member of American Optometric Assn., section on contact lenses, American Optometric Assn. Recognition Annual Awards 1980-1996, Fellow American Academy of Optometry, Member National Eye Research Foundation and The Medical Research Assn., advisory panel. Dr. Hora was also an Honorary Member of the West Tennessee Optometric Assn., and the American registries of Who's Who in Leading Professionals and Executives. Lastly, he was a member of the 4th Degree Knights of Columbus Color and Honor Guard, Pope John Paul II assembly. He was preceded in death by his parents and wife of 50 years; Frances Hornberger Hora and a sister Helen DeCaro. He is survived by his son; Dr. Sylvester William Hora III his wife Marcia, his daughter; Denise Michelle Hora, brother; Dr. John Joseph Hora and his wife Eleanor and his sisters; Margaret Guidi, Patricia Zanone and her husband Charlie. His grandchildren are Alan Hayes Hora and wife Andrea and Alexandra Niel Hora Fraley and her husband Frazier and great-granddaughter; Eleanor Rene Hora. His nephews are John Guidi, John Hora, Tim Hora, Niel Hora and a host of nieces, nephews, family and friends.